Slide 1
AFFORDABLE AND INNOVATIVE BOARDING SCHOOL FOR INTERNATIONAL AND DOMESTIC STUDENTS, GRADES 6-12
Become a confident, determined young adult with education and experiences that will last a lifetime!
Slide 2
AFFORDABLE AND INNOVATIVE BOARDING SCHOOL FOR INTERNATIONAL AND DOMESTIC STUDENTS, GRADES 6-12
Where your child can be
exceptional
Slide 3
AFFORDABLE AND INNOVATIVE BOARDING SCHOOL FOR INTERNATIONAL AND DOMESTIC STUDENTS, GRADES 6-12
Where your child will be
Known, Valued, and Challenged

Pillsbury College Prep boarding school is located in Owatonna, Minnesota and is equipped with 13 buildings, 300 dorm rooms, a large dining hall, ample classrooms for academics, auditorium with a performance stage, gym facility, green space, and much more.
Boarding school prides themselves on knowing each student and helping them reach their potential! At Pillsbury College Prep, we realize that not all students learn best under the same teaching style or at the same pace. We offer a in classroom blended curriculum.
AFTERSCHOOL/ WEEKEND ACTIVITIES
Balance is an integral component of successful individuals. Pillsbury College Prep boarding school promotes participation in after school and weekend activities.
Activities include musical instruments, performing arts, sports, gymnastics, dance, technology, circus arts, ice hockey, skating, and more.
Pillsbury Prep presents two distinct programs: Camp Pillsbury and the English Language Learners (ELL) program. Camp Pillsbury is a premier summer camp in Owatonna, Minnesota, featuring 13 buildings, 300 dorm rooms, a spacious dining hall, classrooms, an auditorium with a stage, a gym, and green spaces. The ELL program, also part of Pillsbury Prep, offers a supportive environment for English language learning. Experience growth and unforgettable moments at Pillsbury Prep's Camp Pillsbury and ELL program.
Welcome to Pillsbury College Prep
Pillsbury College Prep is a year-round boarding school offering an environment in which to thrive.
This boarding school provides life skills and opportunities for students to excel both academically and in areas of personal interest.
Accredited Academic Program
Pillsbury College Prep provides an in-classroom model that tailors a challenging education for both gifted students as well as students who need extra academic support. Since we are a small school, each student gets extensive individualized attention in each course.
Pillsbury College offers course instruction with core technologies that enhance teaching and learning by tailoring the course content to each student's learning needs meeting students at their level and allowing them to learn at their own pace.
Our Boarding School Activities
Pillsbury College Prep boarding school activities provide experienced instructors in athletics, the arts, and adventures to further add to the growth of each individual student. We offer after school and weekend boarding school activities.
2023 - 2024 Academic Calendar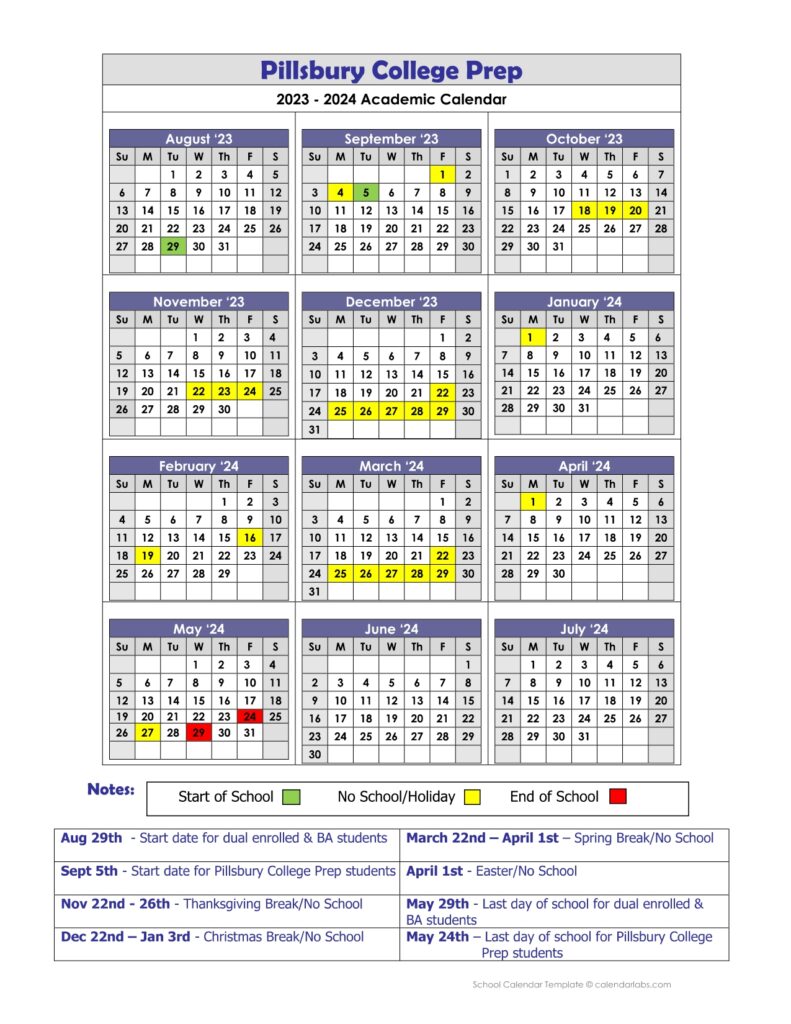 Are you ready to get started?
Email: info@pillsburyprep.com
Pillsbury School curriculum is designed to challenge and inspire.